Belgian National Meeting, Geraardsbergen/Grammont, 17/9/2022
Rédigé par Enrico Alberini
The Belgian national get-together of the Club des Cent Cols will take place on Saturday 17th September at Grammont. It will start at 09.30, at a place still to be determined. The ride will take us towards the Col de la Croix Jubaru BE-WHT-0099 (Tournai). We will climb some bergs (not cols, alas) made famous by the Tour of Flanders : Mur, Bosberg etc. Each participant will receive a local beer and a mattetaart (a speciality of Grammont).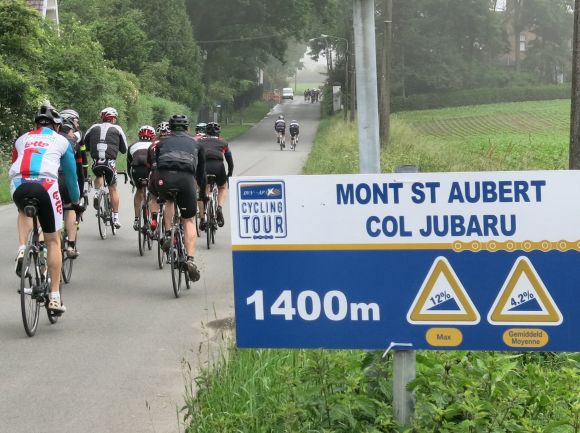 Contact :
Henk Leroy
dt.be@centcols.org
Beste leden van de Club des Cent Cols
Zoals eerder werd aangekondigd gaat de nationale bijeenkomst van onze Club in België door op zaterdag 17/9 te Geraardsbergen.
Geraardsbergen, een in wielermiddens bekend en zelfs wat mythisch stadje met zijn beruchte "Muur".
Deze organisatie staat open voor zowel de leden van de Club als niet-leden. Iedereen mag dus vrienden of kennissen meebrengen
We gaan samen (in 1 of 2 groepen) een fietstocht van ongeveer 110km doen. We rijden via rustige wegen richting Doornik tot aan de Mont Saint-Aubert (145m). We passeren de Col du Croix du Jubaru (99m), de eerste col die door de CCC werd erkend in België.
Op de Mont Saint Aubert zal de bevoorrading (drankje en wat koeken) aangeboden worden door de wielerclub Audax Tournai. Zij vieren hun erkenning als "Société Royale" omwille van hun 50-jarig bestaan. Wie zin heeft kan de zondag "Bébert du Mont Saint-Aubert" worden door 5 keer een parcours van 5km af te leggen.
We keren via andere landelijke wegen terug naar Geraardsbergen. Wie nog zin heeft kan in schoonheid eindigen en de beruchte Muur nog beklimmen. Je moet dit minstens 1 keer in je leven gedaan hebben.
Na de fietstocht zal er gelegenheid zijn om zich te douchen.
's Avonds zouden we met degenen die zin hebben samen gaan eten in het Hemelrijk, het wielercafé op de muur. (Prijs voor voor – en hoofdgerecht: 30 à 40 euro)
Wat praktische info:
Uur van samenkomst : 9u30
Plaats van samenkomst: Cafe 't BIT op de Markt 17 in Geraardsbergen
Uur van vertrek : 10u
Plaats van vertrek: Markt van Geraadsbergen.
Het parcours is niet bewegwijzerd, maar een GPS-file zal aan de deelnemers doorgestuurd worden en ook op de website van de Club terug te vinden zijn.
Alle deelnemers krijgen bij vertrek een koffie en croissant. Bij terugkomst zal hen een echte Geraardsbergse mattentaart aangeboden worden.
Voor de leden van de CCC is deelname gratis, voor de niet-leden is de deelnameprijs 5 euro.
Wij zouden graag een seintje krijgen van jullie
met bevestiging van deelname aan deze fietstocht en met hoeveel.
of jullie 's avonds zouden aanschuiven aan tafel in het Hemelrijk.
Alvast bedankt voor jullie antwoord
Henk Leroy
Membre 6999
DT België
—————————————————————————————————————————————————————————————————————————————————————————————————————————————–
Chers membres du Club des Cent Cols,
Comme annoncé précédemment, le rassemblement national de notre Club en Belgique aura lieu le samedi 17 septembre à Grammont (Geraardsbergen).
Grammont, une ville bien connue car mythique dans le milieu du cyclisme, avec son redoutable « Muur ». Cette organisation est ouverte aux membres du Club et aux non-membres. Ainsi, chacun peut venir accompagné d'amis ou de connaissances.
Nous allons faire ensemble (en 1 ou 2 groupes) une balade à vélo d'environ 110km sur routes tranquilles en direction de Tournai, jusqu'au Mont Saint-Aubert (145m). Avec passage au col de la Croix Jubaru (99m), le premier col reconnu par le CCC en Belgique.
Au Mont Saint Aubert le club cyclo des Audax Tournai, qui fête son titre de « Société Royale pour 50 ans d'existence, offre le ravitaillement cyclo (biscuits et boissons. Ceux qui le souhaitent peuvent devenir « Béberts du Mont Saint Aubert », en bouclant au moins 5 tours du circuit local de 5 km !
Nous rentrons ensuite à Grammont (Geraardsbergen) par d'autres routes rurales. Si vous en avez encore envie, vous pouvez finir en beauté avec l'escalade du fameux « Muur ». Il faut l'avoir fait !
Après la balade à vélo, il sera possible de prendre une douche.
Le soir, vers 19h30 nous nous retrouverons au « Hemelrijk », le café des cyclistes sur le Muur. Avec repas pour ceux qui le souhaitent (entrée +plat entre 30 et 40 euro)
Quelques infos pratiques :
Heure de rendez-vous : 9h30h – Lieu de rendez-vous : Café BIT sur le marché de Grammont (Geraardsbergen)
Heure de départ : 10h – Lieu de départ : marché de Grammont (Geraardsbergen)
Le parcours n'est pas balisé, mais un fichier GPS sera envoyé aux participants et pourra également être consulté sur le site internet du Club.
Tous les participants reçoivent un café et un croissant au départ. Au retour, une vraie «Tarte à matons » de Grammont sera offerte à chacun.
La participation est gratuite pour les membres du CCC. Pour les non-membres, la participation est de 5 euros.
Nous aimerions recevoir un message de votre part
1. avec confirmation que vous participerez à ce tour à vélo et avec combien de personnes
2. si vous dinez avec nous au Hemelrijk, le soir.
Merci beaucoup pour votre réponse
Henk Leroy
Membre 6999
DT Belgique