Helvetica Ronda : 100 cols in Switzerland
Rédigé par Enrico ALBERINI
Introduction
A circuit of 2830km with 116 cols and about 49000m of climbing,  put together by Jacques Bezzola (cc3842)
Theme
The Club des Cent Cols, founded in 1972 and affiliated to the French Federation of Cyclotouring, has prepared this "Randonnée Permanente" based on a simple theme: "One Hundred Cols". The completion of these one hundred cols will allow you either to join the Club, or to progress with your list in the Club's "Tableau d'Honneur".
The discovery of Switzerland and a good part of its most beautiful cols. You will have the opportunity to visit 23 of its 26 cantons, with the notable exception of the cantons of Zurich (13 cols), Schaffhausen (3 cols) and Thurgau (0 col!), as well as climb less popular cols than those located in the Alpine Arc, which thoughmuch more famous ,often suffer from a lot of road traffic. Most of them are obviously planned in this route.
This circuit takes in as far as possible quiet roads, away from heavy traffic, mainly following the excellent concept "Cycling Switzerland" for which there is a map Kümmerly + Frey, unfortunately at the scale 1/301000 . There are also "regional" maps at a scale of 1: 60000 but they are both very expensive (CHF 30.- each) and don't include all the regions that we propose to cover.
There is also an iOS or Android application on the website www.swisstopo-admin.ch which allows you to download, for the price of CHF 38.- per year, the maps to use along your journey, even offline (see details on the site in question).
It is these roads, duly indicated by small burgundy panels, which have been retained to trace the route.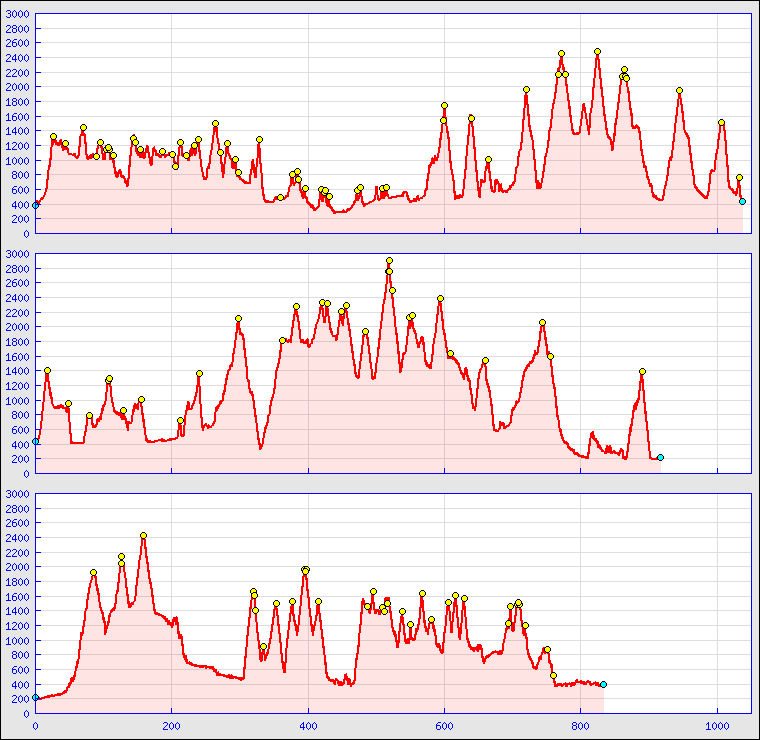 Profil of the Helvetica Ronda
Controls
Nine controls are required. They will be made at the points of the course chosen by the rider himself thanks to a stamp solicited from a shopkeeper, an administration, or through an explicit photo (bicycle in front of a panel of commune or … col). Suggestion for control areas:
| | | |
| --- | --- | --- |
| Genève | Liestal | Lucerne |
| Airolo | Glaris | St-Gall |
| Stelvio | Lugano | Finhaut |
Main cols
22 cols are higher  than 2000 m: Stelvio, Umbrail, Nufenen, Grimsel, Furka, Gotthard are the most famous. Otherwise a multitude of "small" cols: Givrine, Marchairuz, Mollendruz, Aiguillon, View of the Alps, Chasseral for French-speaking Switzerland; Glaubenberg, Brünig, Grosse Scheidegg, Klausen, Pragel, Kunkels for German-speaking Switzerland.
Beware, some passes (Grosse Scheidegg) are not fully surfaced as well as some sections of the roads of "Cycling Switzerland" It is however quite feasible to ride them without much problem on 23mm tyres.
Rules of the randonnées permanentes
Any participant in this 100 Col Route agrees to respect the rules governing it.
More information
CONTACT:
Jean-Marc CLEMENT
10 rue de Normandie
31120 Portet sur Garonne
FRANCE
Tél : +33 (0)5 61 76 30 12
E-mail : randos@centcols.org