Autumn séjour and AGM at St. Maxime (VAR), 10 to 14 November 2021
Rédigé par Enrico ALBERINI
Du 10 novembre 2021 au 14 novembre 2021
Our IT team, along with Bernard Girardeau, Enrico Alberini and Christophe Badonnel, have contributed to this page.
You will find below the following pages :
Introduction to the area


Road and off-road rides

Accomodation

Administrative Council's note

Bookings

Other activities and visits  
Introduction to the area

:

There is a small, wedge-shaped inlet on the Cote d'Azur, that cuts into the Maures massif. It is called the Gulf of St.Tropez and it is here, on the north shore, that we find the small seaside town of St.Maxime. These names, evoking sun and sand, are iconic, and known the world over for their patronage by the elite. So it is St.Maxime that we have chosen for our autumn séjour and AGM.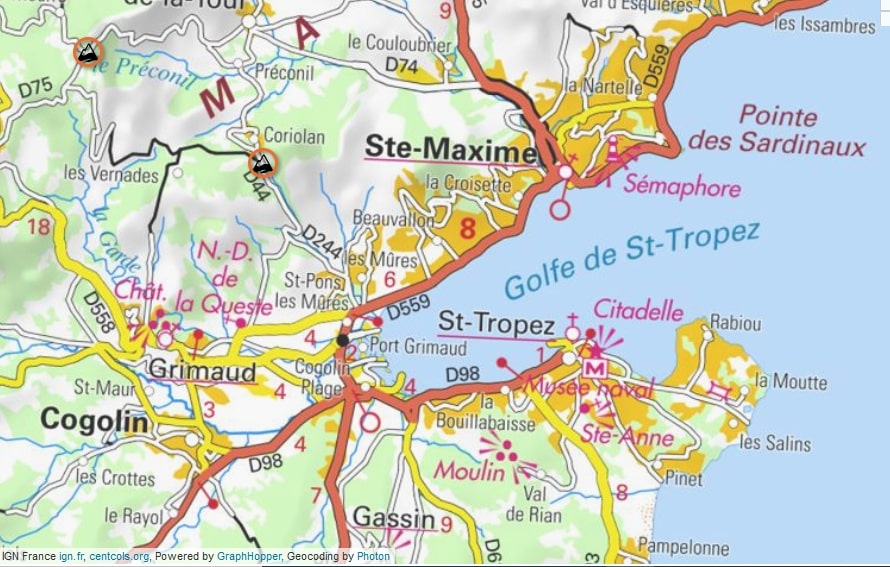 We will be staying at a VVF centre 'Club Intense Golfe de St.Tropez', alongside the Nartelle beach and close to the Pointe des Sardinaux.
St.Maxime is in the Var départment (83) and the Provence-Alpes-Cote d'Azur region. Lying on the Mediterranean coast, and enjoying a warm and sunny climate, the Var is naturally a major destination on the tourist map of France. St.Maxime has 14000 permanent inhabitants, to which several thousand more are added in the summer months. The town has obtained the label of 'station touristique' rewarding a policy of promoting quality tourism, and another of 'Famille Plus' thanks to the family-orientated services it provides. St.Maxime is a typical Mediterranean seaside town.
The town is part of the areas that produce huile d'olive de Provence AOC and Cotes de Provence, two products that benefit from an AOC. It is also in the areas of Vindepays de Maures and Vindepays de Mediterranée, and of Miel de Provence, three products with an IGP. It also has other touristic assets such as the Tour Carrée in which there is a museum of local traditions and folklores. Parks, gardens, beaches and promenades also reward visitors.
St.Maxime spreads the length of the Gulf of St Tropez, but also penetrates the valleys that radiate from the Maures massif. This massif, overlooking the town, protects it from the strong and cold Mistral wind from the north. The highest point of the town is at Peigros (526m) above the Col de Gratteloup (FR-83-0225) on the D44 road and the Col de Peigros (FR-83-0350a) R1. The limits of our playground are 60km long and 30km wide, precisely defined by the Mediterranean coast and by the plains of Argens, of Maures and of Gapeau. There are three ridges that run from south-west to north-east, and decrease in altitude fro north to south. The highest point is 776m. Many road (and rideable off-road) cols provide passage between these ridges and will whet our appetites.
Three sites for some more information about St.Maxime and its region :
Rides
Prepared by Sebastien Golzio
On Thursday and Friday, members will carry their picnic lunches, while on Saturday and Sunday mornings a road circuit and an MTB circuit will be offered, with lunch taken at the holiday village. All the rides will be of a length, amount of climbing, and difficulty open to all of us. A short description of each, with GPX tracks will be made available in the autumn.
Road
Accommodation

VVF "Club intense Golf de Saint-Tropez – Sainte-Maxime" 64 chemin de la Vierge Noire – 83120 Sainte-Maxime

Tel : +33 (0)4 94 55 04 00. site internet
Situated in a well-known seaside town on the Cote d'Azur, close to St.Tropez.
Looking on to the sea, in a park of 2.5 hectares, the 95 air-conditioned rooms are divided between chalets and a two storey villa.
Autres possibilités d'hébergement
Administrative Council's note
If you are arranging your own accommodation, outside the holiday village, please inform us of your attendance at the séjour. This is for three reasons :
1. So that we know how many people will be at our gatherings (informative, welcome drinks, leaving party etc)
2. To enable us to divide our numbers into small groups on our rides, to ensure the safety of everyone.
3. So that our organisers can better meet any unexpected contingencies.
Bookings
To book, download the pdf form via the link below and follow the instructions there. Please not, the form comprises two pages : the booking form itself, which you should fully complete and sign, and a page of special conditions, that you should also sign. If you intend to bring someone with you, please inscribe them beforehand as an associate member with your Territorial or National Delegate, and don't forget to enter their associate membership number in the space provided. If, and only if, you don't have FFCT insurance, you must take out our obligatory insurance at a cost of 1 euro per day.
The cost will vary according to the length of your stay.
If you arrive on Wednesday for dinner and leave on Sunday after lunch, the cost is 242 euros.

If you arrive on Friday for dinner, and leave on Sunday after lunch, the cost is 138 euros.

If you arrive on Saturday for dinner and leave on Sunday after lunch, the cost is 85 euros.

If you arrive on Saturday for dinner and leave on Sunday after breakfast, the cost is 79 euros (half-board).

If you come but do not stay overnight you can reserve meals only : lunch is 14 euros and dinner 15.50 euros. Saturday dinner is reduced to 18 euros.

Etc.
If you intend to arrive before 10 November, please contact the holiday village directly +33 (0)4 73 43 00 43. You cannot stay after 14 November as after this date the centre will close for their annual leave.
You can pay for your booking by cheque or by bank transfer into the Club's account. In view of the additional costs involved, we do not offer payment by Paypal. Bookings will be accepted in the order of payment, by cheque or by transfer as appropriate. For the former, the postmark will be taken as proof, for the latter, please send a copy of the transfer order. If the séjour is fully booked, we will set up a waiting list, following the same principles of priority as for bookings. Trombinoscope : if you have not already submitted your photo for the trombinoscope and wish to be on it, send us a jpg photo by email.
Further information will be published on the website, which you can consult regularly. Each time something new is added, the séjours officer will notify members via the liste de diffusion. If you are not already registered on this liste, please feel free to do so.
If you have any questions, please don't hesitate to call the séjours officer on +33 (0)6 78 87 33 67.
Download the booking form:
montant assurance Gritchen
Last date for bookings is 1 October 2021
.
Annual General Meeting of the Club des Cent Cols
Our AGM will take place in the holiday village on the Saturday afternoon. For more details, please consult our AGM page.
The convocation and statutary documents will be published as usual via an Info Cent Cols in October and will be available on our site.
Once the official work is done, we will meet in a more relaxed manner over a few drinks.
Other activities and visits
For companions who are not riding, we can suggest some things to see and do close to St.Maxime.
Beaches
The Pointe des Sardinaux is a natural and even wild peninsula, and is on the long-distance footpath along the coast that also offers two other curiosities : a World War 2 bunker and a fishpond dating from Roman times.
The great market of St.Maxime every Friday morning.
The botanical gardens des Myrtes