We heartily welcome new members, of all ages, of all nationalities, and of all levels and disciplines of cycling.  Come and join us!
We are not a competitive club – our members ride at their own pace, wherever and whenever they like, on roads or on mountain paths, alone or in groups.  Some members climb less than ten passes in a year, others over a hundred.  But we hope that, at least, you share our passion for the mountains, and welcome the challenge of climbing the mountain passes of the world.  Remember our main Rule – to become a full Club member, you must have climbed at least 100 cols, of which at least 5 must be over 2000m high.
The Club has unrivalled catalogues, freely available to all members, of the cols of the world – over 60,000 cols in more than 25 countries – and can offer a wealth of advice and support to help you plan your trips in some of the most beautiful mountainous regions on earth, the Alps, the Pyrenees, even the Rockies!
How to join ?
You share our passion for the mountains, you want to climb those cols!  We're with you -it's our calling!
What stage are you at?
1°) If you think you have already reached the 100 different col target, then there's nothing stopping you – apply for membership straightaway! 
Attention: A pass can only be counted "once" (rules of the game, article 1)
You simply have to send in your application form, and your list of cols, if possible with their altitudes and where they are situated (eg French department, British county, Italian or Spanish province).  We don't ask for proof of which cols you have climbed – your word is good enough.  For further information on how to apply, follow this link – subscription form.
2°) If you don't think you have yet quite reached the target, don't despair!  Persevere!  Help is at hand! 
You can send us a pre-list of cols you have climbed, and we can help by checking your list to date, andby offering a wide range of support to achieve your membership.  This support includes access to the Club's catalogues and to CCway, the Club's brilliant app for mapping cols; a partnership with Openrunner; access to the Club's long-distance trails, the "Randonnées Permanentes"; and help from our regional or national "Territorial Delegates". contact 
3°) You're not quite sure if all your cols are authorised by the Club?  There are several ways to verify your list, and plan future trips
Establish your list by using our catalogues
Use our catalogues. They are available to non-members*, from our

shop

.

Your guide to preparing your first list of cols:

 

If you don't yet have an account, choose "créer un compte gratuit 


Once your account has been set up, choose the option "créer un parcours" to access the position of cols on the map (even if you have no intention of creating a route)


A map will appear, and low down to the left of the map you will find two icons showing a bicycle on a mountain.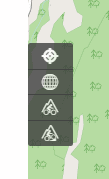 The upper icon will show road cols, the lower one off-road cols.  Go to the area of the map which interests you – here for example, the map is showing the location of the Col de Tamié.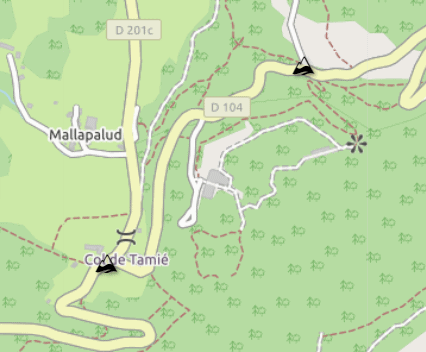 If you pass your mouse over the Col icon, a box will open which will give you information about the col.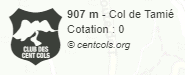 If you click on the icon, another window will open and allow you to tick the col if you have climbed it.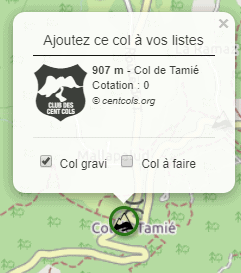 Repeat this for all the cols you have climbed until you have reached 100, with 5 over 2000 metres.
You now just have to edit your list.  To do that, up on the right, show the menu window under your account name.  Click on "Mon compte".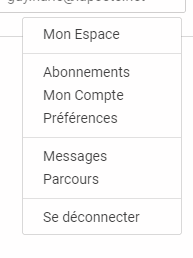 Then click on "Cols".  

A page will open showing the list of cols that you have climbed.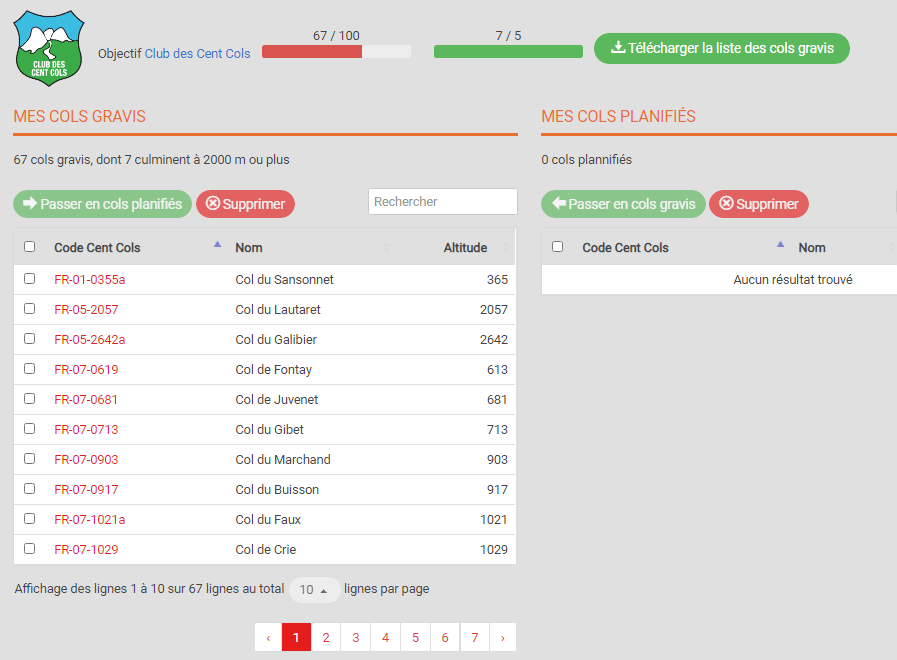 The command "Télécharger la liste des Cols gravis" will let you download this list onto your computer, as a cvs file, compatible with excel, open office, or libre office.  This is the file that you should send with your membership application.
Establish your list using "CCWAY"
CCway. Non-members have limited access to ccway, the Club's app. for showing cols on GPX systems or on Google Earth – a brilliant way of highlighting the best places for "col-bagging", and for planning your future routes. This works best if you have Google Earth downloaded on your computer – you'll be able to see all the cols in a certain region at a glance. To use CCWay, you will need to download Google Earth or other map applications (eg. Basecamp, Compegs or other)
Quick guide:  on the Club website, non-members click on "Cols", then "CCway".  On the map page, click on the flag of the country you want, then make sure to choose "selection cartographique", the type of col eg "col routier", and "KML".  Click to make a polygon on the map around the region you want.  Then click the button with the downward arrow, and the relevant cols should appear on Google Earth.
If there is anything else you would like to know before joining us, don't hesitate to contact our Membership Secretary inscriptions@centcols.org
We look forward to your joining our "Confrérie" and wish you "bonne route" for the years ahead.