Slowly, very slowly I crawl up the mountain. This should be easy after two weeks of cycling through Peru and crossing the Andes from west to east, from desert to tropical forest. The pass is only 2100m high but this is a war of attrition.
What we wanted to do was cycle all the way from Arequipa to Machu Picchu, almost 1100km. Very few people have ever done this, especially the last part. Not because it is very far but because there is dust, altitude, the roughest roads in the world, vague maps and stories, mosquitoes, sickness and camping at sub-zero temperatures. My stomach trouble of last night brings our whole attempt into jeopardy on the very last day. So does the missing bridge. But let me start at the beginning.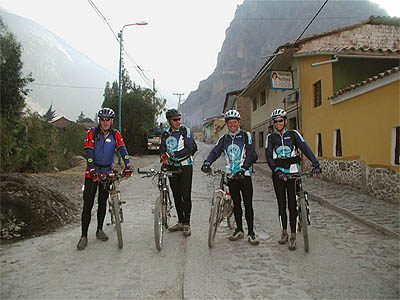 Once you have crossed the Himalayas in Tibet, as I did in 2001, you start a similar expedition with some confidence. You have the experience it can be done and know therefore that you can do it. Besides, Peru is lower (the highest pass is 300m lower than the Ghyatsho La, 5250m), more populated and we are pampered by a team of four Peruvians and an excellent travel guide / manager.
However we did not underestimate what was to come: We trained on our mountain bikes last winter and spring more than ever before 1. We knew how best to avoid altitude sickness. We checked and double checked our equipment and read about Peru as much as possible. And still we are surprised, to say the least, which is of course in a way what we had hoped for.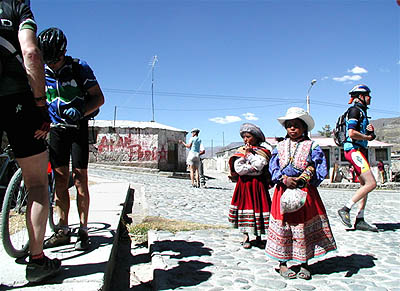 A pleasant surprise is the Peruvian population. They are very friendly and relaxed. I doubt this has anything to do with their huge consumption of Coca tea. On me it had the effect of sending me to the toilet even more frequently than normal. Coca tea (not the Peruvians) happens to ease the negative effects of high altitude, especially the accumulation of fluids in the wrong places (head and lungs). Wherever we go people are greeting us, helping us and smiling at us. The last may be caused by our outfits which are at least as colourful as theirs but emphasize the contours of the body rather more.
Roads
The country is extremely beautiful, rough and culturally interesting but road repairs stopped when Peru was conquered by the Spaniards around 1530. This makes cycling rather uncomfortable and tiring. One may distinguish three categories of roads: the plainly bad ones, the stunning kind and the hideous roads. We had the pleasure of feeling them all but mostly the latter two.
The first type looks like the roads we would normally call gravel roads. These were not too bad and sometimes even quite pleasant for a few kilometres.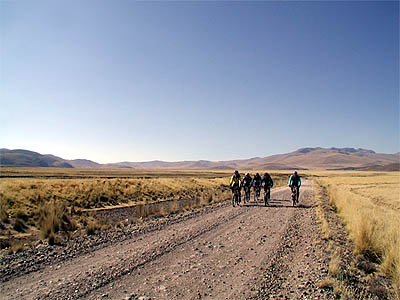 Roads that fall into the stunning group would (in our country) raise questions at city council meetings because they cause damage to 4X4 cars and tractors. Riding a bike on those stops being fun within ten minutes. This is what we had to put up with for hundreds of miles and Peru is not flat! Going up hill you have to start picking up speed again after every stone you did not manage to avoid. Coming down one is wondering what the next thing or body part is that will become unstuck. I felt fortunate that I did not have false teeth or an artificial hip fitted before this trip. But on this kind of road it is still possible to find a rut which is relatively smooth. These ruts can be anywhere on the road but usually not on the appropriate side. The bends are a different story altogether because here an additional handicap is added which makes cycling more like a circus act than anything else; the road is not flat but tilted, in some places with a camber of up to 30 degrees or more.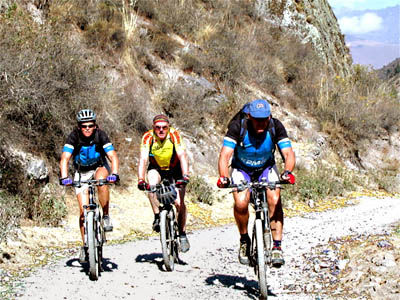 The hideous roads are like the stunning ones but lack the nice ruts and seem to go on forever.
Holidays
Discussions during our voyage across the Andes always came back to the topic of: What we were doing here? "Are we on holiday or is this an expedition?" You might think that this is trivial (and you are right of course) but it does have its merits to think about it. In any case it is great fun because at any time somebody would suddenly declare that what we were doing at that moment was certainly not a holiday or that it definitely was. Sitting in an outdoor café drinking a beer after an exhausting day seems clear-cut enough and so it is. Waking up in the desert in the middle of the night to find that your drinking water is frozen because it is minus 7 degrees C. inside your tent, is definitely not a holiday in my book. Especially not when you wake up later and your tent is frozen too and you know that you have to get going because at eight o'clock you have to start cycling up the next pass which happens to be more than 4800m high. Of course all this was my own choice but that is not the point and it certainly does not make me feel like the average holidaymaker. Essential for expeditions is that you normally don't know in advance what will happen, where they will lead you and that you will never forget them.
Expedition members usually don't mind or are even looking for such circumstances. You might say these people are a bit odd. Yes I agree and I am.
Expedition
Let me tell you about a part of our journey which definitely was an expedition and I think you will agree, no doubt about that. It all started when our travel agent told me that part of his Peru offer included walking the Inca Trail. Many people will drool over such an offer but for me walking is not an alternative for cycling. Cycling is the royal way when you want to see a country. Besides, I broke my ankle long ago which makes walking not a very sensible thing to do. However I very much wanted to go to the destination of the Inca Trail, the legendary hidden Inca city Machu Picchu. The only trouble was, and this became clearer the closer we got to Machu Picchu, that no one had ever undertaken it all the way by bike! Right, that is it, this is exactly the kind of challenge that gets me fired up and I found some soul-mates.
Imagine, it is Sunday and we are riding into Ollantaytambo. This is the place to be for everyone who desperately wants to see Machu Picchu. From here you can either go by train or on foot to the sacred city. The Peruvian government likes to keep it that way because it is surveyable, brings in lots of money and saves the Trail and the city from being trampled on. Five hundred people a day may go on the trail and that includes guides, cooks and sherpas, or whatever they are called outside Nepal.
We still know very little about our detour other than that the first pass is 1500m higher than the point where we are standing now. Looking at the vague tourist maps we managed to find, we really tried about every shop in Cusco, makes us think that it cannot be much more than 100km from here to Machu Picchu. Too late we will find out how wrong we are about that. We have to find a solution for overnight accomodation and meals. We hear stories about a malaria alert and we still do not know if the last bit of this stage is at all passable. The young American hotel owner and travel agent in Ollantaytambo is friendly and enthusiastic enough: "Ok you guys, I can help you, I was there, no problem". He is fond of mountain biking himself he says, but he means 'down hilling' (going up the mountain by car and cycling/rolling down).
We agreed that he will follow us with his van carrying all the food, tents, water, etc. we will need for one day and one night.
Dis-advantage
It is Wednesday and we are very eager to have an early start. Again the weather is splendid but we are nobody's fool, we know the weather can change rapidly in the mountains and above 4000m it will be freezing anyway. The climb to the Abra Malaga pass (4309m) is the best I ever did. To our surprise there is excellent asphalt on more than half of this road and it rises by a very even 5%.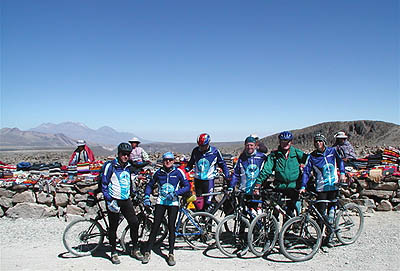 The disadvantage is (as the famous Dutch football player and oracle Johan Cruijff would say: "every advantage has its disadvantage") that the route is much longer than expected, but this does not worry us yet.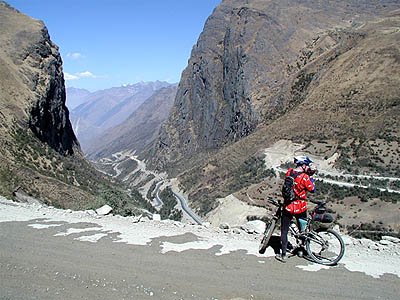 At noon we arrive at the top and are very satisfied because we think that we have conquered the worst/heaviest part already. The descend is glorious with stunning views and roads. It seems to go on forever, from 4300m down to 1300m over a distance of about 80km.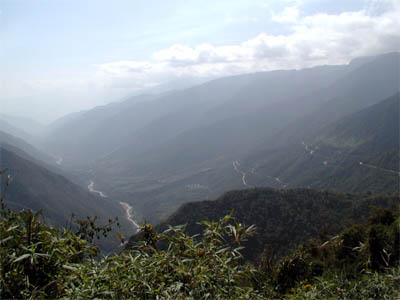 Signal tower
In the end we come to a halt in one of the tiny villages along the road and our American tells us: "Hey you guys you are the most fantastic bikers I ever saw. I know a fantastic camping site not far from here". This place turns out to be 'fantastic' indeed but (dis-advantage) it is some distance back up the road. We have cycled 110 km today and we feel a bit 'shaken, not stirred' (because of the road quality) but we are stunned again when we arrive at the camp site. It is an old Inca site with an artificial hill and walls and gates and we are to camp in the middle of all that, on top of the hill. We are told that it is one of the signal towers (lighthouses) the Inca's used to send messages quickly through their empire. This is one of the reasons why they managed their empire so well: The excellent communication. This hill is exactly in the middle of the enormous crevice which extends from Abra Malaga in the east to Santa Maria in the West (120km).
Another bizarre thing about this place is that we have suddenly landed in the middle of the jungle and can pick bananas from the trees. Early this afternoon we were freezing at Abra Malaga and now for the first time in Peru we have lush and abundant flora & fauna around us. It takes some time to adjust. One other surprise and part of the fauna are the mosquitoes. Too late we discover that the cute little insects are in fact monstrous blood guzzling terrorists who attack silently and unnoticed. After a few hours however you will find bloody holes in all your bare parts which start to itch horribly and continue to do so for days. The holes seem much bigger than the insects that make them. As if they are using chainsaws to cut themselves a way in. As thieves who rob the jeweller shop by driving their car through the shop front. As bank robbers who blow up the whole building to ....... well, you get the point.
After that the situation improves: The itching abates but (dis-advantage) your arms and legs start swelling to about twice their customary size. This is one of those times we feel less like holidaymakers than ever. Unaware of the real identity and intentions of our little friends we have a very pleasant evening with a simple meal, cool beers and a fair glass of wine, listening to the birds and the crickets and looking in awe at the scenery and the stars. At last I can see why the Milky Way was given that name. The night brings unpleasantness to me, though. Or rather I bring it to the night when I wake up with a queer feeling in my stomach that makes me rush out, after successfully trying to find the zipper of my tent. Waking up in the morning I am certain that this is not going to be my day. The four of us leave the American after a breakfast, which we finish too late. "Sorry guys but I ran out of gas and had to switch to plan B to cook you these excellent pancakes". He does some explaining about the road ahead, not about the number of kilometres and we descend further (which I feel is the only thing I will be able to do today). In the end we arrive in Santa Maria which is much further and lower than we expected. It is obvious now that our American friend has never been here by bike or by any other means of transport.
Bridges
Two things become perfectly clear in Santa Maria: there is a lot of climbing ahead of us and we have missed a bridge somewhere. More and more we get the impression that the next town (Santa Teresa) does not exist or is a leper colony. There are no signs and when we find the right road and bridge in the end they are very obscure indeed. People keep telling us that it is too steep for cycling and won't lead to Machu Picchu. I am just following the others and try to encourage myself with the thought that in Machu Picchu there will be a splendid hotel, hot showers, a clean bed and no mosquitoes in sight. The climb we now expect, starts soon after crossing the bridge at an altitude of 1300m and continues, hairpin bend after hairpin bend, up to 2100m with an average incline of 10%. David and Josine have taken up the routine of keeping a constant watch over me and Henk is cycling ahead to scout the road.
I manage to get to the top (I still don't know how) and together we get down again and arrive in Santa Teresa at around 15.00 hours. We have covered 180 km since yesterday morning and are certain that we have to hurry to reach our goal before dark. As you probably know, near the equator it does not grow dark gradually but darkness falls upon you and in these places it gets very very dark indeed.
We do some resting and ask around about the bridge that should lie ahead and how to get to Machu Picchu after that. We hear rumours about a hydro-electric power station and an abandoned railway track. A boy takes us down a thousand steps (that is what I think, in my hazy condition) to a bridge, the first suspension bridge we ever crossed, I mean with ropes and loose wooden planks, and on through the river bed.
It is impossible to cycle here. We get nearer to the river and once we arrive there our reactions are very different. Henk, the heaviest of our little group flatly states that he is not going to pass the river in 'that'. He points bewildered at the coffee table size cart hanging from a single cable that crosses the boiling river at a height of at least 15m. The other two have a sparkle of adventure in their eyes and me, I see my splendid hotel disappear like the proverbial fata morgana.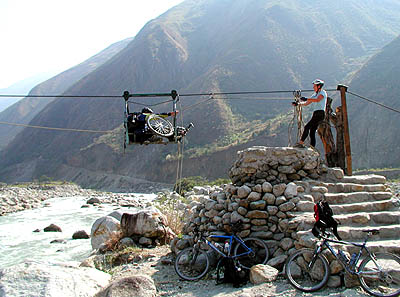 After a short discussion we decide that even if we agree to cross now, we will have too little time to reach our goal before dark. We return to Santa Maria, through the riverbed, over the suspension bridge and up the thousand steps. We pass some men who are slaughtering a cow at the roadside, some girls who are doing their jump-rope game and boys shooting marbles. We are quite certain that we will not find a splendid hotel but are willing to go for anything with four walls, a roof and a bed.
My friends ask around and come back with the amusing story that people tell them we should try at Machu Picchu. We have cycled a thousand kilometres to get to Machu Picchu and tried rather hard today to get there in time! We had failed to do so and now they tell us we should go there if we want beds. A little later Josine comes back with good news which solves the mystery; she has found beds in a guest house. Its name: Machu Picchu. I go there right away, manage to undress myself and drop onto the bed. About that night I have no recollections whatsoever but wake up fully recovered. At breakfast it becomes clear that the night has brought a solution for our predicament: Henk goes back the way we came by taxi and is happy about it.
The other two will push on (go for the coffee table) and I decide to go with them. This is 'Indiana Jones' stuff.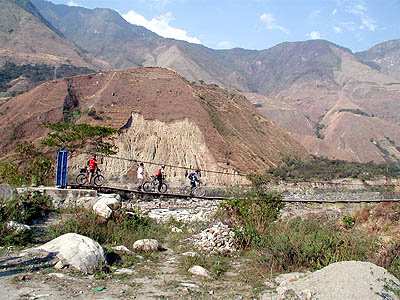 So we go down the thousand steps again and have a good look at the technique of crossing a river in that way. I decide to go first and take photographs of the others. One after the other loads his/her bike onto the tiny platform and then him/herself. The rest is a piece of cake; just pull the rope and the cart rides the cable like the chariot of the sun-god. We actually enjoy the ride although starting off is awesome enough.
At the other end a reasonable road (category: plainly bad) goes up along the river we just crossed and after a pleasant ride we come to the hydro-electric power station and the abandoned railway track. The power station is there and a railway station but it is far from abandoned. The usual array of traders and little 'restaurants' are fully manned and ready to receive a hurdle of acquisitive consumers. We still do not draw the obvious conclusion and think that this is for the hikers we have seen on the way, going to Machu Picchu on foot. We have a refreshment and continue. This is new and fun, cycling on a railway track.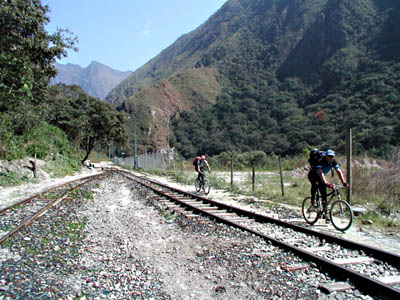 We do not get far however. After a few hundred meters a government official stops us to ask where we think we are going. We patiently explain that these are our last few kilometres (of almost 1100), that we have come all the way through his magnificent country, across the Andes from Arequipa by bike and that we very much want to continue. Equally patiently he explains that there is a train coming and that it is forbidden to cycle on this track. We realise that during the last weeks we have explored our own abilities to the limits and sometimes got very (perhaps even too) close to them. But here is a boundary we cannot cross.
Five hours later a fully packed train leaves the station, including us and our bikes. It zigzags up the track and within an hour we arrive at Aguas Calientes, the railway station town below Machu Picchu. We are very tired and immensely satisfied.
Postscript
Yes I admit that I am addicted to cycling up and down mountains. Dineke, my wife, says it is endorphins and I say it's great fun (and legal). But why the Himalayas or Andes you might want to know? Well this is what I wrote about our last expedition:
«This expedition started like many travels with a casual remark while drinking a beer with cycling friends. You should know that for more than fifteen years our rowing team has done some voluntary cycling in the European mountains and to supplement the loss of moisture we would drink a beer now and then. And while we were telling each other heroic cycling stories someone would come up with a brilliant plan. Some of those plans have, from what we remembered the day after, been worked out and a few have even been executed. What we normally did was thinking of a nice place to go for a week and cycle as much as we could. You might think that over the years those weeks became more like holidays and less like cycling up and down the mountains but that is not the case. You could even say that we have become more crazie and after cycling almost every interesting pass in Europe we ended up at Everest, at Base Camp of Everest that is». 2
Passing the age of fifty we know 'the great downhill' has begun. So in Peru we take it easier. Our highest pass in the Himalayas was above 5200m and in the Andes it is below 4900m. One reason to go to Peru is the high passes. Other reasons are the beauty of the Andes and the spectacular culture and history. We do not need more reasons and we are fortunate with our good health, good family and friends. Without a wife and children to support me and without friends who want to join me I would not even think of doing things like this. Well, think perhaps but not do.
William H. Prescott needed about 1200 pages to describe some of the land and history of Mexico and Peru 3 and this is how he starts: «Few of the works of Nature, indeed, are calculated to produce impressions of higher sublimity than the aspects of this coast, as it is gradually unfolded to the eye of the mariner sailing on the distant waters of the Pacific; where mountain is seen to rise above mountain and Chimborazo, with its glorious canopy of snow, glittering far above the clouds, crowns the whole with a celestial diadem.»
The blind historian Prescott, published his 'History of the conquest of Peru' in 1846 and continues: «So immense is the scale in which Nature works in these regions, that it is only when viewed from a great distance, that the spectator can, in any degree, comprehend the relation of the several parts of the stupendous whole.»
---
P.s.: Before and after this expedition through Peru we collect(ed) money to help improve the diet of the children of the Patacancha valley. The HoPe Foundation in Cusco, which has been working with/for the Indian population in the remote mountain areas for 15 years, developed simple greenhouses. The villagers living in the Patacancha valley build these greenhouses themselves. They get advice and materials from HoPe and improve their diet with the vegetables they could not grow before because of the harsh climate. We have visited the project and have seen the excellent results.

http://www.stichtinghope.org/en/stichtinghope.asp